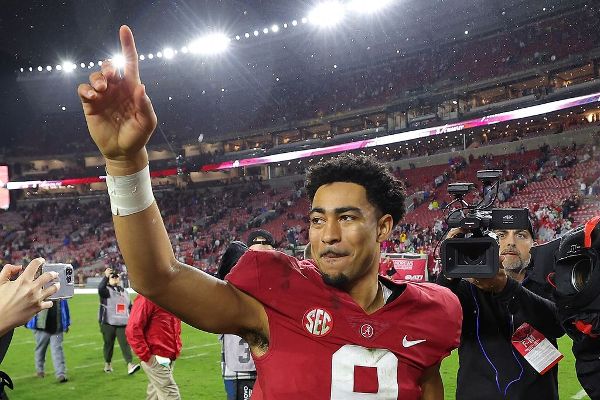 A trio of potential first-round picks at Alabama — quarterback Bryce Young, linebacker Will Anderson Jr. and running back Jahmyr Gibbs — announced Monday that they are leaving school early to enter the NFL draft.
Alabama coach Nick Saban said, "There may be other guys in the future who make decisions about what they do." But Monday's announcement featured only those three players.
ESPN's Todd McShay predicts Young, a junior and the 2021 Heisman Trophy winner, to be the No. 1 overall pick if the Houston Texans get the pick. The Texans have a 55.7% chance to select No. 1, according to projections by ESPN's Football Power Index.
Anderson, who won back-to-back Bronko Nagurski trophies as the nation's top defensive player, is predicted by McShay to be a top-three pick.
Anderson led the SEC in sacks (10) and tackles for loss (19.5) this season. He also led the nation in pressures (50).
McShay projects Gibbs to be a late-first-round pick. The former Georgia Tech transfer led Alabama in rushing (926 yards) and receiving (44 catches) this season.
The trio made the surprising decision not to opt out of Alabama's game last week against Kansas State in the Allstate Sugar Bowl. Young threw five touchdown passes in the lopsided 45-20 win.
A former five-star prospect from Pasadena, California, Young spent his first season at Alabama as the primary backup to Mac Jones, a 2021 first-round pick and starting quarterback of the New England Patriots.
In his first season starting as a sophomore, Young. who is 6-foot and 195 pounds, threw for 47 touchdowns and had seven interceptions. He won the Heisman Trophy, led Alabama to an SEC championship and an appearance in the College Football Playoff National Championship game, losing to Georgia.
Despite dealing with a shoulder injury and not having the same caliber of receivers to work with as a junior, Young continued to excel, passing for 3,328 yards and 32 touchdowns with five interceptions. He also rushed for 185 yards and four touchdowns.
Young injured his throwing shoulder during an Oct. 1 win at Arkansas. He missed the following week's game against Texas A&M.
When he did return, starting every game the rest of the season, his reps were managed in practice to limit soreness. Saban said there was no structural damage done and no threat to Young's long-term health.
Saban could turn to backups Jalen Milroe and Ty Simpson as Young's replacement.
Milroe was the primary backup this season, starting in Young's absence against Texas A&M. A former four-star prospect, Milroe rushed for 300 yards and a touchdown. But the redshirt freshman was inconsistent as a passer, completing 31 of 53 attempts for 297 yards and five touchdowns with three interceptions.
Simpson, a true freshman and former four-star prospect, completed 4 of 5 pass attempts for 35 yards.
Last month, Alabama signed the No. 4- and No. 5-rated pocket passers in the 2023 class in Eli Holstein and Dylan Lonergan, respectively.
Alabama, which lost two games during the regular season, narrowly missed reaching the College Football Playoff, finishing fifth in the final rankings.
The Crimson Tide open next season at home against Middle Tennessee on Sept. 2. The following Saturday, they will host Texas.