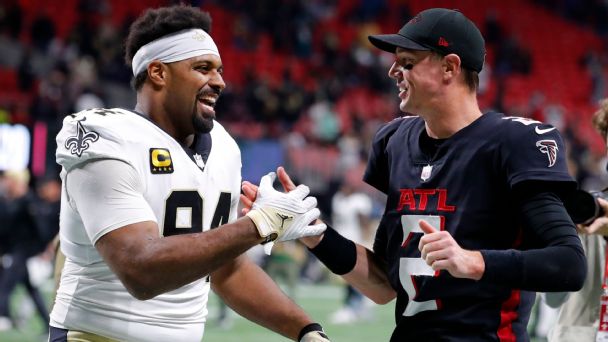 New Orleans Saints defensive end Cameron Jordan became the franchise leader in sacks Sunday, picking up three against the Philadelphia Eagles to increase his career total to 115.5. He broke Hall of Fame linebacker Rickey Jackson's franchise record of 115.
"All of, what, 16 and a half hours into 2023? We had three sacks today," Jordan said after the Saints' 20-10 victory. "That's one heck of a way to start off 2023. I don't know what tomorrow's going to hold, but Jan. 1 was a good day."
Jordan, who received a game ball for his efforts, spoke at length about the teammates and coaches who helped him get to this point in his 12-year career. He also made a point to give a special mention to one person who's been most instrumental in Jordan getting the record-breaking numbers: Indianapolis Colts quarterback Matt Ryan.
"There was some Josh Freemans in there, there was like a myriad of Tampa Bay quarterbacks," Jordan said, recalling some of the quarterbacks he's sacked over the years. "Lots of Matt Ryan. He's been good to me. Happy New Year, Matt Ryan, if you see it."
Jordan sacked Ryan 23 times over 11 seasons when Ryan was with the Atlanta Falcons, a record for the most times a quarterback has been sacked by a single player. Jordan's sacks of Ryan account for a whopping 20% ​​of his career total.
It's no wonder Jordan was sad to see Ryan go when he was traded to the Colts in the offseason.
"Do we play the colts?!? What's the @Saints schedule," Jordan tweeted when he heard the news.
Jordan has poked fun at the statistic many times over the years, and the team has gotten in on the fun. The Saints' official Twitter account put out a graphic when Jordan broke the record, depicting Ryan in his Falcons uniform on the ground after a sack.
Congratulations @CamJordan94 on becoming the #Saints career sack leader!!!!
#Levelz pic.twitter.com/GI5Jgzq7Wa

— New Orleans Saints (@Saints) January 1, 2023
But Ryan isn't the only QB to be the recipient of Jordan's playful jabs. Even teammate Jameis Winston found himself on the receiving end of one of his jokes. Jordan had 9.5 sacks on Winston when he was with the Tampa Bay Buccaneers from 2015 to 2019, something he reminded Winston of when he joined the Saints in 2020.
"There's a lot of Cam Newton [sacks]. Appreciate ya, big dog, best draft class, 2011," Jordan said. "There was some Jameis Winston, love it, because we talked about it and he didn't realize I had sacked him that many times. I sent him a reel while we were on the plane his first year here."
Jordan said that he initially didn't know if he had broken the record because he wasn't sure if his first sack Sunday against the Eagles — a zero-yard sack against Gardner Minshew, officially counted. But he'll take it any way he can get it.
"I wrapped him up and he sort of fell and I was like, 'Ah, was that …?' because he went for the pass and sometimes they don't give it to you in that limbo. I'll take those. I'll take those. I wish I could have the Michael Strahan freebie. But it is what it is."
Jordan said that he will probably send his jersey and the game ball from Sunday to his mother as a present.
"I'm going to shadow-box it for her and send it her way so she has to take it," Jordan said jokingly. "I'm not really going to give her a choice."