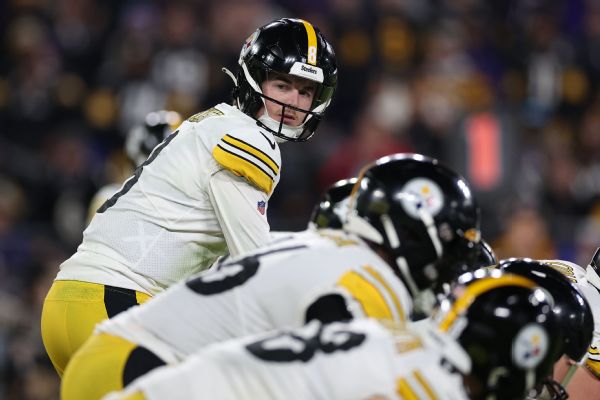 BALTIMORE — Kenny Pickett clutched a football as he wound through the tunnels under M&T Bank Stadium on Sunday night after orchestrating his second consecutive game-winning drive, this one to beat the Baltimore Ravens 16-13 and keep the Pittsburgh Steelers' slim playoff hopes alive.
Not only did he spell off postseason elimination and Mike Tomlin's first losing season as a head coach, but Pickett also got a game ball — his first — gifted to him by the "Sunday Night Football" crew.
"I'll probably send that back home to my parents and they can put that one up in our house," he said, adding that running back Najee Harris got one, too, after his first 100-yard rushing game of the season.
For the second week in a row, Pickett's calm demeanor and precision passing helped the Steelers (8-8) drive the field and score the go-ahead touchdown with less than a minute remaining to complete the comeback. Pickett completed 5 of 6 attempts for 64 yards and converted two short-yardage third downs on sneaks to drive the Steelers 80 yards in 3 minutes and 20 seconds, capped with the 10-yard TD to Harris.
Pickett was 3-of-4 — including the touchdown — on throws traveling at least 10 yards downfield on that final drive. He was 3-of-7 on such throws prior to that drive, according to ESPN Stats & Information research.
"I can't say enough about our young quarterback," Tomlin said Sunday night. "He smiled in the face of it. He's always ready to be that guy in the moments that we need him. And it's just good to see the young guy. We marched forward."
Before Sunday, the Steelers were 0-7 when trailing by double digits — one of only seven teams without a double-digit comeback this season.
With a complementary run game that racked up 198 rushing yards, Pickett finished the night having completed 15 of 27 attempts for 168 yards with one touchdown. He's only the third rookie quarterback to win in Baltimore, joining Mitch Trubisky (2017) and Jake Plummer (1997).
A week after finding George Pickens for the go-ahead touchdown against the Las Vegas Raiders with 46 seconds left, Pickett connected with Harris on third down with 56 seconds remaining, keeping his eyes downfield as he rolled out of the pocket and eluded Baltimore's pressure. Pickett rifled a pass to a scrambling Harris.
"He did a great job of extending and slipping past the linebacker," Pickett said. "I just wanted to extend long enough to where those guys could free themselves up a little bit."
Pickett became the first rookie since at least the 1970 merger to throw a go-ahead TD in the final minute of regulation in back-to-back games, according to Elias Sports Bureau research.
"We see the moxie in our quarterback," outside linebacker TJ Watt said. "We've seen our guys go out and ball out and practice all season long. So we weren't surprised."
After being part of a late game-winning drive a week earlier, the Steelers' offense was confident in its young quarterback when it took the field trailing by four with 4:16 remaining — even though it hadn't scored a touchdown all night . Kicker Chris Boswell converted three field goal attempts earlier in the game to keep the Steelers within striking distance, but he missed a 48-yarder in the second quarter that would have given them an early 6-3 lead.
Still, the Steelers had no doubt they were going to score when they took the field for their final drive.
"There was energy — it was almost like we had the confidence — like we knew we were going to go down there and score," left tackle Dan Moore Jr. said of the huddle on the final drive.
The Steelers' offense believed in Pickett from the minute he took over as quarterback, even when the team was 2-6 at the bye. Another come-from-behind, fourth-quarter win only reinforced that belief.
"We can win with him, and he's going to show up in big moments," tight end Pat Freiermuth said. "We never questioned that, but seeing him delivering those big moments, and the guys stepping up and especially the line … and receivers making plays and stuff. You have all the confidence in the world."
The belief the offense has in its quarterback is reciprocal — and one that will be key as the Steelers enter Week 18, when a win against the Cleveland Browns, coupled with losses by the New England Patriots and Miami Dolphins, would get them into the playoffs.
"Confidence that I had in myself is showing up on the field, and I think guys are starting to feel that, which is always good," Pickett said. "Going into the huddle and seeing how confident everyone is, as a quarterback you know they have a lot of belief in you, and I have a lot of belief in those guys in the huddle. When that is there you definitely have a shot. So, it's a step in the right direction. There's a lot of business left to take care of."