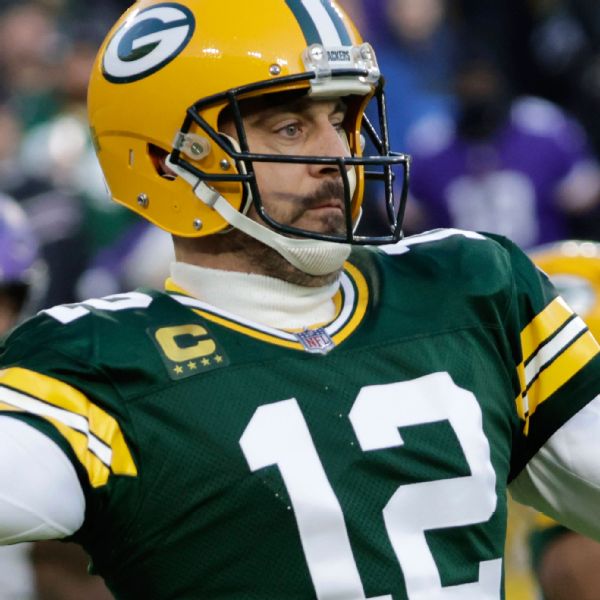 GREEN BAY, Wis. — To think, Aaron Rodgers at one point this season had to entertain the idea that backup quarterback Jordan Love might finish out the season if the Green Bay Packers were just playing out the string.
And that was barely more than a month ago.
The Packers had just fallen to 4-8 after a loss at the Philadelphia Eagles, and Rodgers left the game because of a rib injury. They were on the verge of playoff elimination, their chances at 3%, according to ESPN's Football Power Index.
No wonder Rodgers needed a second — seven of them, actually — to gather himself before he could explain how it all felt to be facing a win-and-get-in scenario next weekend. Green Bay will host the Detroit Lions at Lambeau Field in their regular-season finale next Sunday.
"It feels really special, it does," Rodgers said. "It's been an interesting year. It hasn't been my best football at times, but I've been asked to step up my leadership and be someone the guys can count on to keep it together, even when it doesn't seem like there's anything to play for or we don't have a chance to make a run. There's been a lot of special moments throughout the year."
The 41-17 home win Sunday over the Minnesota Vikings was one of them. It came 16 weeks after the Vikings blew out the Packers at Minnesota in the season opener.
It wasn't a spectacular performance by Rodgers. In fact, there haven't been many of them. He completed just 15 of 24 passes for 159 yards. He threw for one touchdown and ran for another. He has had exactly one touchdown pass in each of the Packers' four games in this winning streak. It's the first time in Rodgers' career that the Packers have won four straight with him throwing for one or fewer touchdowns in each.
At no point this season did Rodgers issue one of his signature proclamations such as "RELAX" or say that he thought the Packers could "run the table" like he did in 2016, when they were 4-6 and won out to get all the way to the NFC Championship Game.
"It didn't look great for a while," Rodgers said. "And I was resigned to some of those realities being possible. And when I took my mind there, I had a peace about it. I had a peace about all of it. Whatever was supposed to happen, I was surrendered to that reality – – with also the resolute mindset that we could still get back in this thing. And I think that's what I'm most proud of, for myself and our team, is that there were a lot of different things that could happen, and we stuck together and we put ourselves in position to do something special."
Rodgers said something Sunday that he wouldn't admit when the Packers were 3-6, had lost five straight following the Nov. 6 game at Detroit and were looking at a stretch of matchups that went Dallas-Tennessee-Philadelphia. But now he can say that he told himself if they could just win one of those three games, they would have a chance to go 9-8 and sneak into the playoffs.
Sure enough, they beat the Cowboys to end the losing streak but then followed with losses to the Titans and Eagles.
"I had faith, much like at 4-6 I think in '16," Rodgers said. "Sometimes you've got to fool yourself a little bit into believing a little bit more."
A good portion of the rest of the squad followed. A defense that was highly touted but fell flat for most of the season has turned things around to the tune of four takeaways in each of the past two games to go along with cornerback Jaire Alexander's near-shutdown performance of Vikings' star receiver Justin Jefferson ( one catch for 15 yards). And then there's the emergence of returner Keisean Nixon, who had a 105-yard kickoff return for a touchdown in the first quarter Sunday.
"You can sit there and preach whatever you want, but they've got to buy into it and that's a credit to the guys in our locker room," Packers coach Matt LaFleur said. "And I've always said it and I think [general manager Brian Gutekunst] and his staff do such a great job of bringing in high character people that in times of adversity you find out what you really have, not only from our coaches, our players, but really everybody in the building. And I think everybody stuck together. I never felt at one point that there was any finger-pointing. So that is a credit to everybody in our organization."