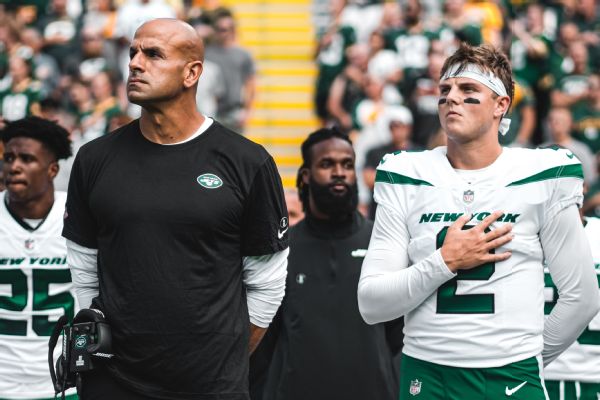 FLORHAM PARK, NJ — The New York Jets won't give up on quarterback Zach Wilson after only two seasons, according to coach Robert Saleh, who insisted Wednesday the organization will do everything "through hell or high water" to maximize his potential.
This was the Jets' strongest endorsement of Wilson, whose future has been the subject of intense speculation because of two benchings. Saleh said Wilson, who will be a healthy scratch Sunday against the Miami Dolphins, can begin his turnaround with a mental break from football as soon as the season is over.
"Go read a book, go do something, get away from this game, just reset," Saleh said. "I think the greatest gift you can give yourself as a human is to figure out what's important to you. What do you value and how can you stick to those values ​​day in and day out?
"That is the greatest gift you can give yourself, is to discover yourself. I think Zach needs to get away, read a book and figure that out."
Saleh noted that Wilson is only 23 years old, an age when many players are still maturing. This has been a difficult year for the former BYU star, drafted second overall in 2021. He missed the first three games with a knee injury and got benched for the first time when the team was 6-4.
"Zach has all the talent in the world, and we have all the confidence in the world in him," Saleh said. "It's just, like I said, a reset. We're going to grind with him. We are. Through hell or high water, we're going to figure out how to get him to where we know he can be."
The Jets (7-9), losers of five straight and mathematically eliminated last Sunday, haven't committed to Wilson as their 2023 starter. His rookie contract runs through 2024; he's due to make a total of $9.3 million (fully guaranteed) over the final two seasons.
The other two quarterbacks on the 53-man roster, Mike White and Joe Flacco, will be free agents. White, who will start the finale against the Dolphins, has displayed some promise in four starts this season (1-3), but the Jets might opt ​​for a more proven commodity in 2023. Chances are, they will acquire a veteran from the off – season market.
"[He needs to] keep working," offensive coordinator Mike LaFleur said. "He's a New York Jet and that's not changing. That's the way my mindset is."
Both the coaches and Wilson himself have acknowledged that his fundamentals have slipped — specifically, his footwork and balance. The plan after the first benching was to have him focus on his fundamentals, but he returned to action after only three weeks of inactivity due to White's rib injury.
Saleh said it's not a talent issue with Wilson, who sparked a firestorm by refusing to take accountability for a poor performance in a Nov. 20 loss to the New England Patriots — the precursor to his first benching. An emotional Wilson later apologized to the team.
"We want to make sure we reconnect with Zach and regain his confidence — regain his confidence in himself and us, and us and him, all of us," he said. "Just to make sure he's back on track, make sure his footwork is right, mechanics right, his mind right. It's not a talent thing for Zach. I believe that. We're going to work our tails off to help him, and we're committed to him."
It's strange for a team to move on from a highly drafted quarterback after only two seasons. Since 1998, only two top-10 quarterbacks lasted less than three years with the team that drafted them: Ryan Leaf (San Diego Chargers, No. 2 pick in 1998) and Josh Rosen (Arizona Cardinals, No. 10 pick in 2018).
In two seasons, Wilson has a 15-18 record as a starter, with 15 touchdowns, 18 interceptions, a 55% completion rate and only 4,022 passing yards. His QBR for the two seasons is 35.0, the lowest among 35 qualified passers.