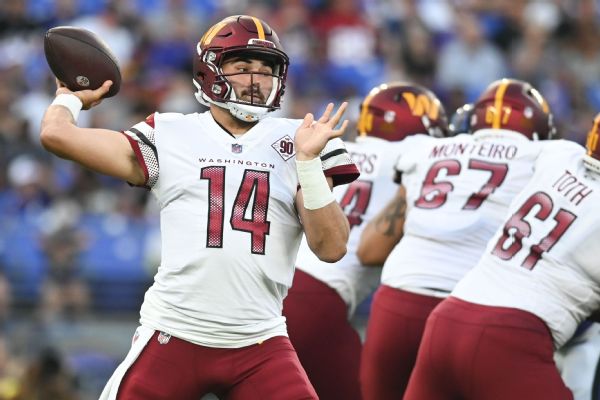 ASHBURN, Va. — The Washington Commanders reversed course and will start rookie quarterback Sam Howell in Sunday's regular-season finale vs. the Dallas Cowboys, coach Ron Rivera said Wednesday.
Until late Wednesday morning, the Commanders were strongly leaning towards starting Taylor Heinicke and having Howell play in relief, according to multiple sources. Carson Wentz will be inactive.
The expectation about which QB would start for Washington shifted from Heinicke to Howell late in the morning, sources told ESPN's Jeremy Fowler, as Heinicke endorsed to coaches that Howell was deserving of the opportunity. Other players also endorsed wanting to see Howell.
Washington wants to see more of Howell, the only quarterback on the active roster who is signed for the 2023 season. Rivera said that after speaking with other coaches and team leaders he opted to go with Howell.
"The most important thing is we're really intrigued in seeing what Sam can do in this league," Rivera said. "The opportunity is going to be a good one for him to go out and play and show us. We won't judge everything on Sam based on one game. We get an opportunity to see how he prepares."
Rivera said Howell told him, "I'm ready to roll" when he informed the rookie of the decision.
The Commanders (7-8-1) were eliminated from playoff contention last week. Dallas (12-4) can still win the NFC East with a victory and a loss by the Philadelphia Eagles.
Howell becomes the 33rd quarterback to start for Washington since it last won the Super Bowl after the 1991 season. He's the eighth different starter in coach Ron Rivera's three seasons, highlighting a key reason the Commanders will once more finish with a non-winning season.
"I really try not to worry about what I have to prove to people," Howell said. "I want to prove to my teammates that I can do this job and I just want to prove to them that I'm capable of playing in the NFL. More than anything I just want to prove to myself. I know how hard I' ve worked my whole entire life to get this opportunity. I just want to go out there and make the most of it."
Wentz will be inactive in what almost assuredly will be his last game with Washington. He has two years left on his contract, but with no guaranteed money. However, he does have $4 million guaranteed for injury, which is another reason he will be inactive Sunday. As it stands, the Commanders could cut him without any money counting towards their salary cap.
Washington traded two third-round picks to Indianapolis and swapped second-round picks with the Colts last spring to acquire Wentz. The Commanders also absorbed a $28 million cap hit.
Wentz threw a combined seven touchdown passes in Washington's first two games but struggled thereafter, with only four scoring tosses in his next five starts. The Commanders scored a combined 55 points in those first two games but only 57 in the ensuing five.
Washington also wants to see Howell, a fifth-round pick last spring who has yet to play. He was Heinicke's backup for seven games before Wentz returned from his injury. Howell threw for 10,283 yards, 92 touchdowns and 23 interceptions in three seasons as a starter at North Carolina.
Receiver Terry McLaurin said he was among the players Rivera talked to about the decision. He endorsed the move.
"He makes some throws where the ball comes off his arm and it's like, 'wow, that's a nice ball he threw,'" McLaurin said. "He has a real good touch and I think he has a quiet confidence about him. I'm excited to see how it is in a game atmosphere."
Rivera said they saw progress from Howell when he was the primary backup and could get more work as the scout team quarterback.
"A couple of guys I talked to today said they felt he was ready for this opportunity," Rivera said. "That was a big part of the reason, too, how people felt based on what we saw during that stretch."
Heinicke will back up Howell.
Heinicke started nine games after Wentz broke his right ring finger on Oct. 13. Washington went 5-3-1 in those games. In the past two seasons, Washington has gone 12-11-1 when Heinicke starts and 2-7 under anyone else.
But Washington turned to Wentz last week because the offense had not scored more than 20 points in seven of the previous eight games. Most of that was due to red zone struggles as the Commanders ranked 13th in total yards during this stretch.
Washington had strongly considered starting Heinicke, knowing the defense it faced Sunday, Rivera said. The Cowboys rank 10th in passing yards allowed, third in sacks and tied for sixth in interceptions. Starting Heinicke would have given Howell a chance to see how Dallas was attacking. It also could have been Heinicke's final start with Washington; he's a free agent after the season.
Heinicke said he was not disappointed to be the backup Sunday.
"Obviously I want to be out there with the guys, but I also understand this is a business deal. We want to see what Sam's got. We've seen it all year in practice, in training camp, preseason. The guy can ball . We're all excited for him."