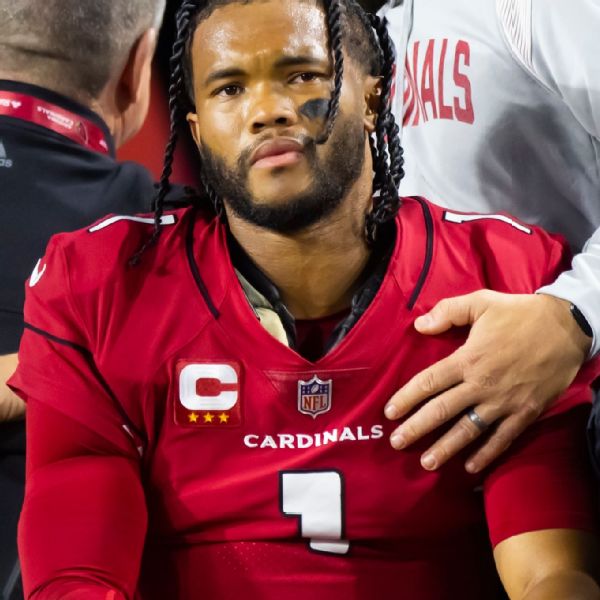 TEMPE, Ariz. — A day after Arizona Cardinals quarterback Kyler Murray had surgery to repair his torn right ACL, coach Kliff Kingsbury said Wednesday the quarterback "probably" won't be back for the start of the 2023 season.
Kingsbury brought up Murray's status for next season when discussing why Arizona shut down backup quarterback Colt McCoy, who missed the last two games and will miss Sunday's season finale in San Francisco because of a concussion.
"It was tough," Kingsbury said about ending McCoy's season. "He wanted to play and it's just in our situation with … probably not having Kyler start the year, it's the right thing to do."
Kingsbury said he texted with Murray on Tuesday and added the surgery "went well." Murray posted a photo on social media of him in a hospital bed after his surgery with a caption that said the operation was "successful."
With McCoy, who was on track to start last weekend in Atlanta before experiencing more concussion symptoms after Thursday's practice, out this week, Kingsbury said David Blough will start at quarterback.
"Last week, he didn't get the full process. He just really practiced Friday," the coach added. "So, I wanna see what he can do, the full process and see kind of how he plays against a really good defense."
Kingsbury countered the notion that Blough is playing for the Cardinals' third-string spot next year. Blough started last week in place of Trace McSorley, who was the Cardinals' starter the week before.
However, Kingsbury said going against the San Francisco 49ers' defense on Sunday will be a "tall task" for Blough.
"Anytime you're in his position and you get a chance to go in real games and show what you can do, it's huge, and particularly against the best team in NFC and the best defense in the league, it's gonna be a great challenge , he said. "But I'm excited for him to see how he handles that."
Blough will, once again, not be able to throw to the Cardinals' top receiver. DeAndre Hopkins will not play Sunday, Kingsbury said.
Kingsbury added that Hopkins' knee injury from last season has been nagging him, and Arizona will be cautious. Hopkins returned in Week 7 from a six-game suspension for violating the NFL's performance-enhancing drug policy but played in every game until last Sunday, which he also missed because of a knee issue.
Kingsbury said running back James Conner is still day-to-day with a shin injury suffered Sunday in Atlanta.
"We'll see how he feels in the next couple of days," Kingsbury said. "Definitely sore, didn't do much today, but we'll see if he can go by Friday or Saturday."