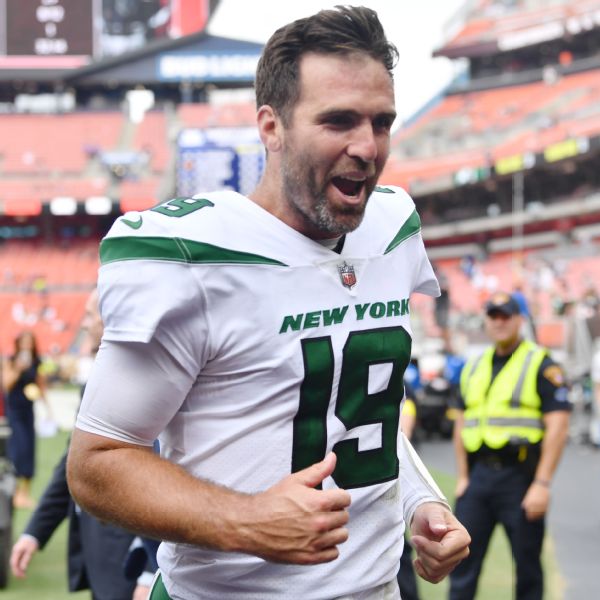 FLORHAM PARK, NJ — In one last twist to their ever-changing quarterback situation, the New York Jets have decided to start Joe Flacco — not Mike White — in their final game Sunday against the Miami Dolphins.
White was ruled out Friday after aggravating a previous rib injury on a sack at the end of the first half in Sunday's loss to the Seattle Seahawks, according to coach Robert Saleh.
"He's just in a lot of pain," said Saleh, adding that the injury "clearly affected his ability to throw the ball" in the second half.
Former starter Zach Wilson, inactive last week, will be the No. 2 quarterbacks.
Explaining why he chose Flacco over Wilson, Saleh said he wants Wilson, benched twice, to focus on 2023. A messy offensive-line situation probably factored into the decision as well. Left tackle Duane Brown (shoulder), right tackle George Fant (knee) and right guard Nate Herbig (calf) — all starters — were ruled out.
"I want to get him to the offseason so we can attack the plan that we've been building," Saleh said of Wilson. "Putting him out there right now is not going to do him any good; it's not going to do anyone any good. For Zach, it's all about '23."
The Jets could have three quarterbacks for the game if they elevate Chris Streveler from the practice squad, as they've done the past two weeks.
The game has no playoff implications for the Jets (7-9), who were eliminated last week after their fifth straight loss. It does have some symmetry, though. They started the season with Flacco because of an injury, and now they will end with him for the same reason.
Flacco, 37, hasn't decided his future, so this could be the final game of his distinguished career, which includes a Super Bowl MVP award with the Baltimore Ravens.
New York will end the season with three quarterbacks having started at least four games apiece — Flacco (four), White (four) and Wilson (nine).
This marked the second time in the past four weeks that White was ruled out on a Friday because of his fractured ribs. After getting injured Dec. 11, he was preparing to start the next week but could not get clearance from doctors. He wound up missing two games, as Wilson stepped in after being benched.
Wilson got benched again, as Saleh turned back to White in last week's must-win game against the Seahawks. White threw two interceptions and completed only 23 of 46 passes for 240 yards, as he seemed to be affected by the rib injury.
Saleh said he doesn't second-guess his decision to play White in such an important game.
"He felt really good and he looked really good in the first half, and then it got re-aggravated," Saleh said. "You can play the hypothetical: Was it a mistake? He still played good football in the first half. But we knew the risk that if it got re-aggravated it wasn't going to be good — and it got re-aggravated ."
On Monday, Saleh said White "should be ready to go for Sunday," but red flags went up when the Jets canceled White's regular media availability Thursday. Later, the injury report said he was downgraded to "limited" in practice. Saleh wasn't available Thursday.
So the Jets turned back to Flacco, who started the first three games after Wilson underwent preseason knee surgery. He won one of the three starts, throwing five touchdowns and three interceptions. He played seven snaps in the Dec. 11 loss to the Buffalo Bills, looking rusty and fumbling on a strip sack.
Overall, Flacco has a 28.8 QBR, which ranks 37th out of 38 passers with a minimum of 150 attempts.
White's time with the Jets could be over, as he will be an unrestricted free agent. He finished the season with a 1-3 record, along with 3 touchdown passes, 4 interceptions, a 59% completion rate, 1,192 yards and a 37.5 QBR.