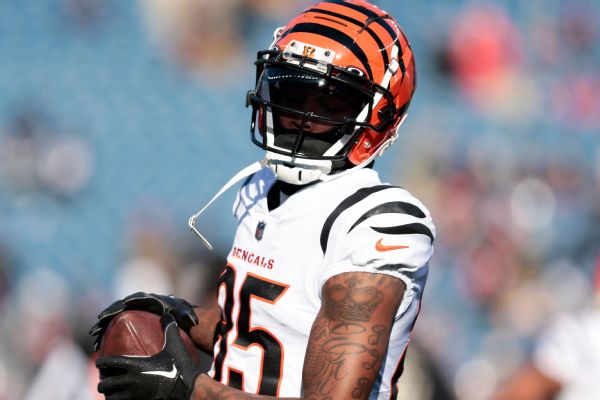 CINCINNATI — The prayers between Cincinnati Bengals wide receiver Tee Higgins and Damar Hamlin's family are going both ways.
In his first comments since Hamlin went into cardiac arrest and collapsed, Higgins said Thursday that Hamlin's mother, Nina, has been in touch and offered prayers in support in the aftermath of his collision with Hamlin during Cincinnati's game against the Buffalo Bills on Monday night.
"It was just telling me she's thinking of me, praying for me and things like that, telling me he's OK, all the good, positive stuff," said Higgins, who added that knowing Hamlin is improving is making him feel good inside.
Higgins, who went to Clemson, played against the Bills safety in college while Hamlin attended Pitt. The two also spent time together at Bengals receiver Tyler Boyd's annual football camp in the Pittsburgh area, where Boyd and Hamlin are from.
Higgins recounted the final play of Monday's game, which was eventually postponed. Initially, Higgins said he believed Hamlin had flopped after he tackled Higgins following a 13-yard completion. When he looked again, he understood the severity of the situation.
"I just turned my head to try and not think about it because I knew it was something crazy and something tragic," Higgins said. "It was hard."
Cincinnati's players received updates about Hamlin's condition before physicians at the University of Cincinnati Medical Center held a news conference to provide updates on his condition. Hamlin is awake and responsive and able to communicate with writing, according to officials.
When Higgins received news about Hamlin's condition in the morning, Higgins called it a "big relief off his chest" as he and the Bengals prepare for their Week 18 contest against the Baltimore Ravens.
Boyd said he knew that Higgins felt bad about the situation because he was involved in the final play before Hamlin was driven off the field in an ambulance. Boyd said he constantly checked in with his fellow Bengals receiver because of how Higgins felt after the game and said those who have been critical of Higgins' role in the situation have been disrespectful.
"Tee's a human being, too," Boyd said. "It could've flipped. It could've been Tee. It's football, at the end of the day."
Bills quarterback Josh Allen, who along with head coach Sean McDermott addressed reporters on Thursday for the first time since the terrifying scene unfolded, stayed seated after the news conference and said he wanted to express support for Higgins.
"I do want to say one more thing: I haven't reached out to Tee. I hope that he got some relief today. I saw some stuff on Twitter. And people shouldn't be attacking him whatever," Allen said. "And I'm glad that Damar's family came out and said that. And hopefully he found some relief today. Because that's a football play. And I hope that he doesn't hold that upon himself because there's nothing else that he could have done in that situation."
Boyd, Higgins and the rest of the Bengals held their first full practice since Monday's shortened game. When practice ended on Thursday afternoon, the team had yet to receive word on whether the Bills game would be continued.
But the process of getting ready for an opponent was a welcome feeling for many inside Cincinnati's locker room, including Higgins. He was among those playing on one of two table tennis surfaces in the locker room while music played over the speakers, signs that the Bengals were trying to operate as normal as possible.
Higgins said he remains focused on preparations for Sunday's showdown against the Ravens as the Bengals look to position themselves for their upcoming postseason run. Higgins said that he has not thought about skipping the game.
Information from The Associated Press was used in this report.