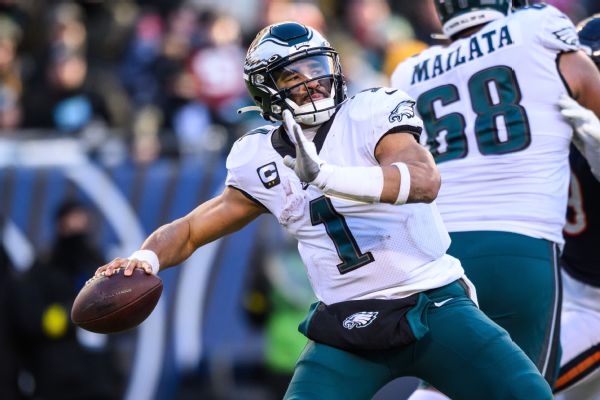 PHILADELPHIA — Eagles coach Nick Sirianni says "it's trending in the right direction" for quarterback Jalen Hurts to start Sunday against the Giants.
"We feel good about it," Sirianni said, "but we've got to see how [Friday] goes."
Hurts has missed the past two games after suffering a sprained right shoulder in the second half against the Chicago Bears on Dec. 18. He was listed as a limited participant in the Thursday practice but saw an increase in his workload from the previous week and on Friday officially drew a questionable tag for the game.
Wide receiver AJ Brown indicated Hurts has been working with the first team.
"It looked really sharp," Brown said of Hurts' throws. "He's still crafting, he's still knocking the rust off, but I think he'll be fine coming on Sunday."
In the portion of practice open to reporters, Hurts had decent velocity on his throws, including on attempts when he was asked to roll to the left and throw across his body.
Philadelphia can clinch the No. 1 seed in the NFC with a win Sunday.
The Eagles could have clinched a first-round bye with a win over either the New Orleans Saints or Dallas Cowboys the past two weeks. Having dropped both with Gardner Minshew starting, it now comes down to the regular-season finale against New York.