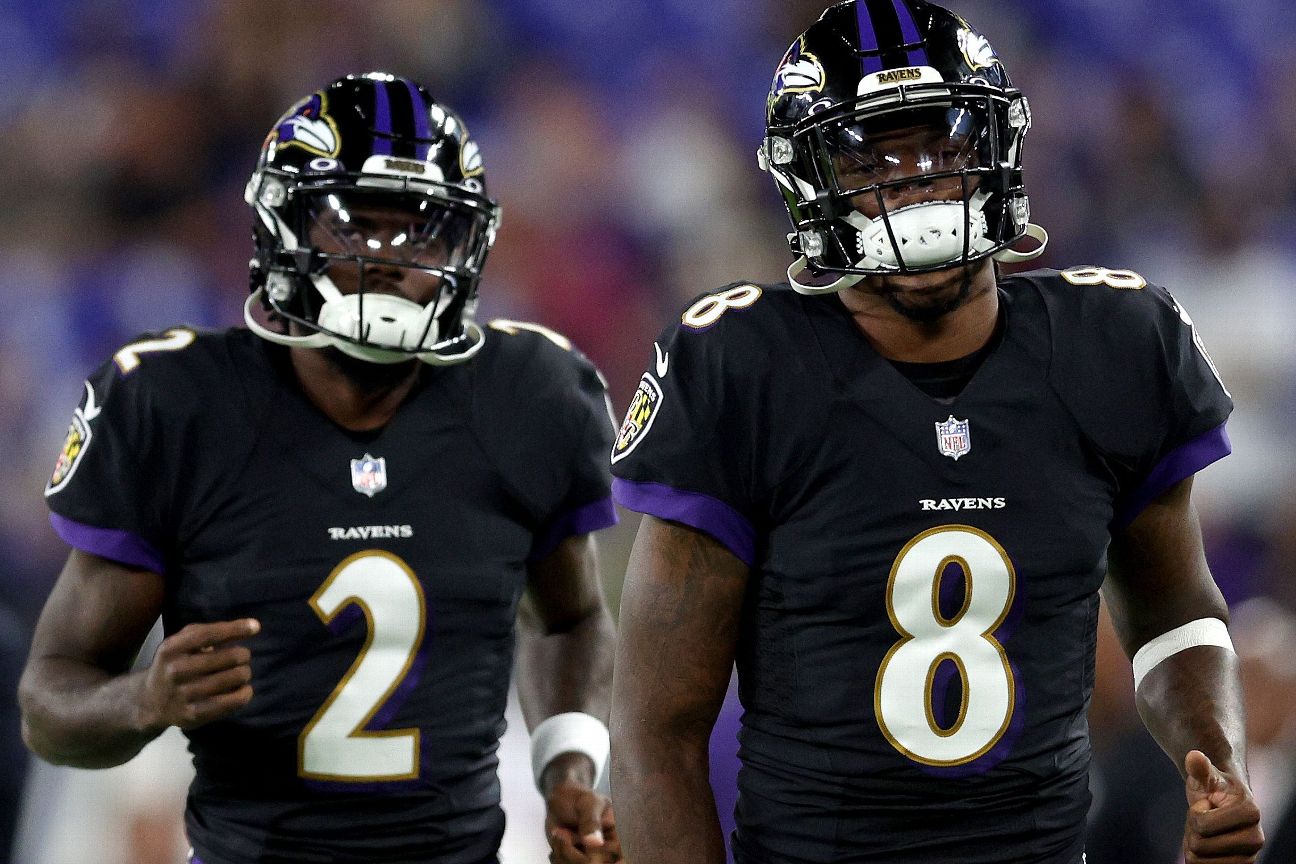 OWINGS MILLS, Md. — Baltimore Ravens quarterback Lamar Jackson, who missed his 17th straight practice Thursday, posted on social media that his left knee "remains unstable" heading into Sunday's wild-card game vs. the Cincinnati Bengals.
"Thank you everyone for your support and concerns regarding my injuries," Jackson posted to Twitter on Thursday. "I want to give you all an update as I am in the recovery process. I've suffered a PCL grade 2 sprain on the borderline of a strain 3. There is still inflammation surrounding my knee and my knee remains unstable.
"I'm still in good spirits, as I continue with treatments on the road to recovery. I wish I could be out there with my guys more than anything but I can't give a 100% of myself to my guys and fans I I'm still hopeful we still have a chance."
The Ravens did get some good news regarding their quarterback situation, however, as backup Tyler Huntley, who has tendinitis in his right shoulder, resumed throwing at Thursday's practice.
Huntley had not attempted a pass during the media viewing portion of the past four practices. He was officially listed as a limited participant on Thursday, but it marked the first time since Jan. 1 that he has been seen throwing passes.
"He looked good," Ravens offensive coordinator Greg Roman said. "It's day-to-day. He's making progress. We take stock on it every day."
Baltimore's offense has suffered a steep decline without Jackson. In his 12 starts this season, the Ravens averaged 23.1 points, which ranked ninth in the NFL. In five starts without him, Baltimore has averaged 13 points, which is second fewest in the league.
"Obviously, Lamar is Lamar," linebacker Patrick Queen said. "You can't replace that kind of guy, but I do still think that we have quarterbacks who can go out there and get the job done and play at a high level."
In four starts this season, Huntley has gone 2-2, throwing for 471 yards and two touchdowns with two interceptions. With that right shoulder issue, he has struggled to throw deep, completing just three passes that traveled at least 20 yards in the air (which ranks 27th in the NFL since Week 14).
The Ravens are now a 9.5-point underdog to the Bengals after the line opened at six points. Since Harbaugh's first season (2008), Baltimore is 3-14 outright (.176) as an underdog of seven or more points.