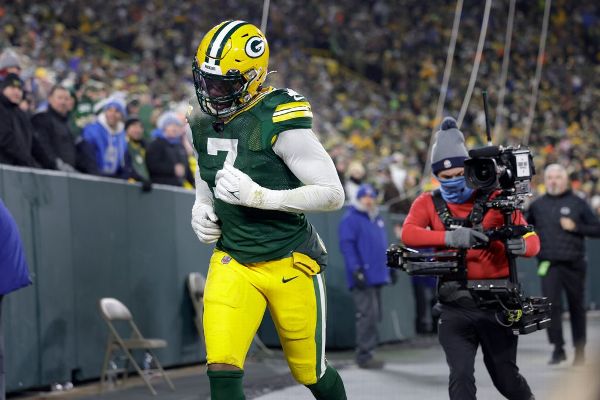 GREEN BAY, Wis. — The NFL fined Quay Walker $13,261 for shoving a member of the Detroit Lions' medical staff during the fourth quarter of the Green Bay Packers' season-ending loss on Sunday, a source told ESPN.
The rookie linebacker was ejected for unsportsmanlike conduct after he pushed Dr. T. Sean Lynch, a Lions team physician, who was attending to injured running back D'Andre Swift. Walker had previously been ejected from the Packers' Oct. 30 game at Buffalo for shoving a Bills practice squad player on the sideline. He was not suspended despite being a repeat offender.
Walker, the 22nd overall pick in the 2022 draft, became the first player to be ejected from two games in one NFL season going back to at least the 2000 season, according to ESPN Stats & Information research.
The Packers were leading 16-13 with less than 8 minutes remaining against the Lions. A win would have put the Packers in the playoffs. The penalty gave the Lions a first-and-goal at the Packers' 4-yard line. Detroit scored the go-ahead touchdown three plays later and held on for a 20-16 win.
Walker apologized on Monday for his actions and said he spoke to Lynch on the phone.
"I don't think he has a problem, no," Packers general manager Brian Gutekunst said Friday. "Certainly he can't do that. That's unacceptable and he knows that. We love Quay. We love everything he's bringing to our squad right now. For a rookie to come in and do what he did, not only on the field but I think he's done some good things, leadership-wise. He has a really bright future ahead of him. I'm excited for him.
"Those are things he's going to have to clean up. He's got a lot of energy and passion on the field and those were reactionary things. He's got to learn to grow from that, and I think he will. The thing I was most proud about, even though that was a big mistake on his part — you guys saw he responded the way he should respond. That's the man. That's who he is. Again, that can't happen, but I was proud of the way he responded to it."
Packer's defensive tackle Devonte Wyatt was not fined for making contact with Lynch after Walker shoved the doctor. Lynch came on the field after Swift took a forearm to the helmet from Packer's defensive tackle Jarran Reed, who was not fined. Neither Wyatt nor Reed was penalized on the field.