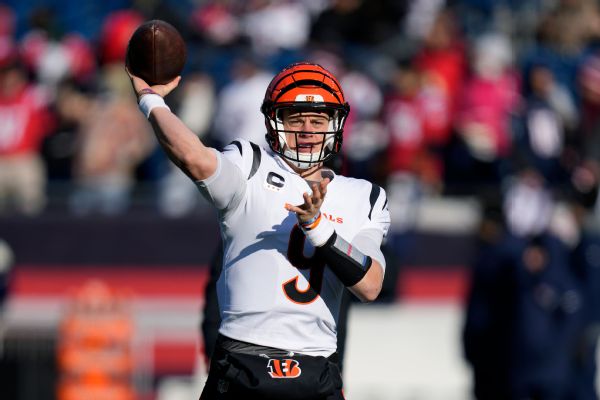 CINCINNATI — Cincinnati Bengals quarterback Joe Burrow doesn't want to play football anywhere else.
In an interview with NBC ahead of Sunday's wild-card game against the Baltimore Ravens, Burrow emphasized his desire to play with the team that drafted him and alongside coach Zac Taylor.
Burrow, who was drafted with the first overall pick in 2020, will be eligible for a contract extension in the upcoming offseason.
"My plan is to be here my whole career, and hopefully Zac is here my whole career," Burrow told NBC, which will broadcast the game.
Burrow said he hopes the Bengals are able to keep Cincinnati's key players for as long as possible and credited the team's front office for the current roster construction.
"I have a lot of confidence in the front office doing their jobs in the offseason," Burrow said.
Along with Burrow, Cincinnati wide receiver Tee Higgins and linebacker Logan Wilson will be eligible for an extension on their rookie contracts as well. Higgins was drafted in the second and Wilson in the third.
In 2022, Burrow helped the Bengals win their second straight AFC North title and was named to his first Pro Bowl. He completed 68.3% of his passes for 4,475 yards, 35 touchdowns and 12 interceptions.
Burrow's touchdown mark was a career high and broke the franchise record he set in 2021.