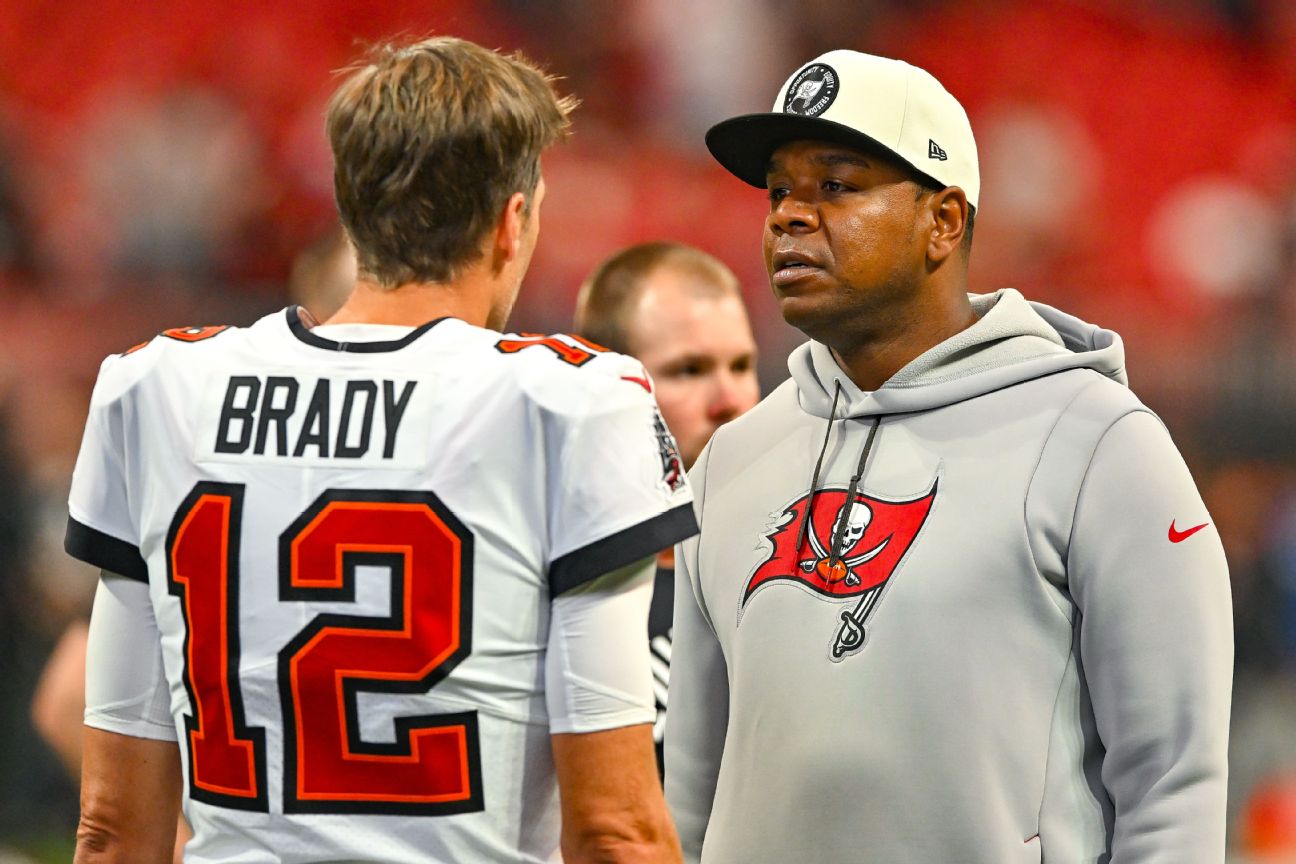 TAMPA, Fla. — The Tampa Bay Buccaneers have fired offensive coordinator Byron Leftwich, a source confirmed to ESPN on Thursday.
The decision to fire Leftwich after four seasons as the team's offensive playcaller was the first major personnel move made by Todd Bowles since he became head coach on March 30.
The Tampa Bay Times was the first to report on the firing of Leftwich.
The Bucs went 8-9 this season, winning the NFC South, but fell well short of their expectations, finishing with a 31-14 loss to the Dallas Cowboys in the wild-card round of the playoffs.
Leftwich was largely credited with merging the "No Risk It, No Biscuit" offense of former coach Bruce Arians with quarterback Tom Brady's preferred elements of the New England Patriots' system. The Bucs won Super Bowl LV in Brady's first year with the team despite having no offseason program because of the pandemic. Over the 2020 and 2021 seasons, the Bucs averaged 30.39 points per game during the regular season — the most in the NFL.
Those numbers, however, fell off significantly in 2022, with the Bucs averaging 18.41 points per game — 25th in the NFL. The Bucs also had the league's worst rushing attack, averaging 76.94 yards per game, forcing Brady to attempt a career-high 756 passing attempts at age 45.
The Bucs' offense was hampered this season by injuries to the offensive line and to the receiving corps. Also contributing to the decline were the retirements of tight end Rob Gronkowski and left guard Ali Marpet, the loss of right guard Alex Cappa in free agency and the loss of wide receiver Antonio Brown. However, it was Leftwich's inability to adapt to the Bucs' available personnel and predictability that stifled the offense.
Brady is set to become an unrestricted free agent this offseason, but the Bucs will keep him abreast of their plans, and making the right choice at offensive coordinator could go a long way toward luring him back for another season.
Leftwich, 43, is one year removed from being one of the hottest head-coaching candidates in the NFL, having interviewed with the Jacksonville Jaguars (twice), the Chicago Bears and the New Orleans Saints last offseason. His ability to relate to players, having spent 10 seasons in the NFL as a starting quarterback and a backup, is considered his greatest asset.
His meteoric rise in coaching began with a 2016 internship under Arians with the Arizona Cardinals. Within two seasons, Leftwich was named interim offensive coordinator, then joined the Buccaneers in 2019.