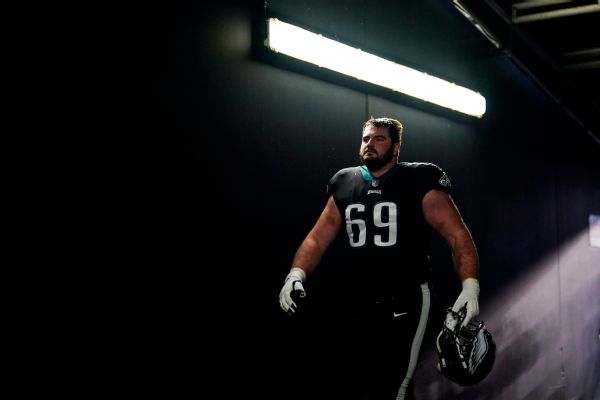 PHILADELPHIA — Eagles left guard Landon Dickerson is expected to play in Super Bowl LVII against the Kansas City Chiefs despite suffering a hyperextended elbow injury in the NFC title game against the San Francisco 49ers, a league source confirmed.
Dickerson will likely wear a protective elbow brace in the game, the source added.
Dickerson was injured in the fourth quarter of the Eagles' 31-7 win against San Francisco and was replaced in the lineup by former first-round pick Andre Dillard.
The Philadelphia Inquirer was first to report that Dickerson is expected to play.
Dickerson, a 2021 second-round pick out of Alabama, posted the second-highest pass-block win rate among guards (97%) during the regular season, according to ESPN's metrics, and was tops in run-block win rate (88% ).
The Chiefs have one of the best interior defensive linemen in the game in Chris Jones, making Dickerson's availability all the more important.
Right tackle Lane Johnson, meanwhile, continues to play through a torn adductor muscle. He said whatever healing had been done since the initial injury was re-torn in the divisional round against the New York Giants, but he played both in that game and the NFC title game against the 49ers and did not allow a sack — a streak that dates back to November 2020.