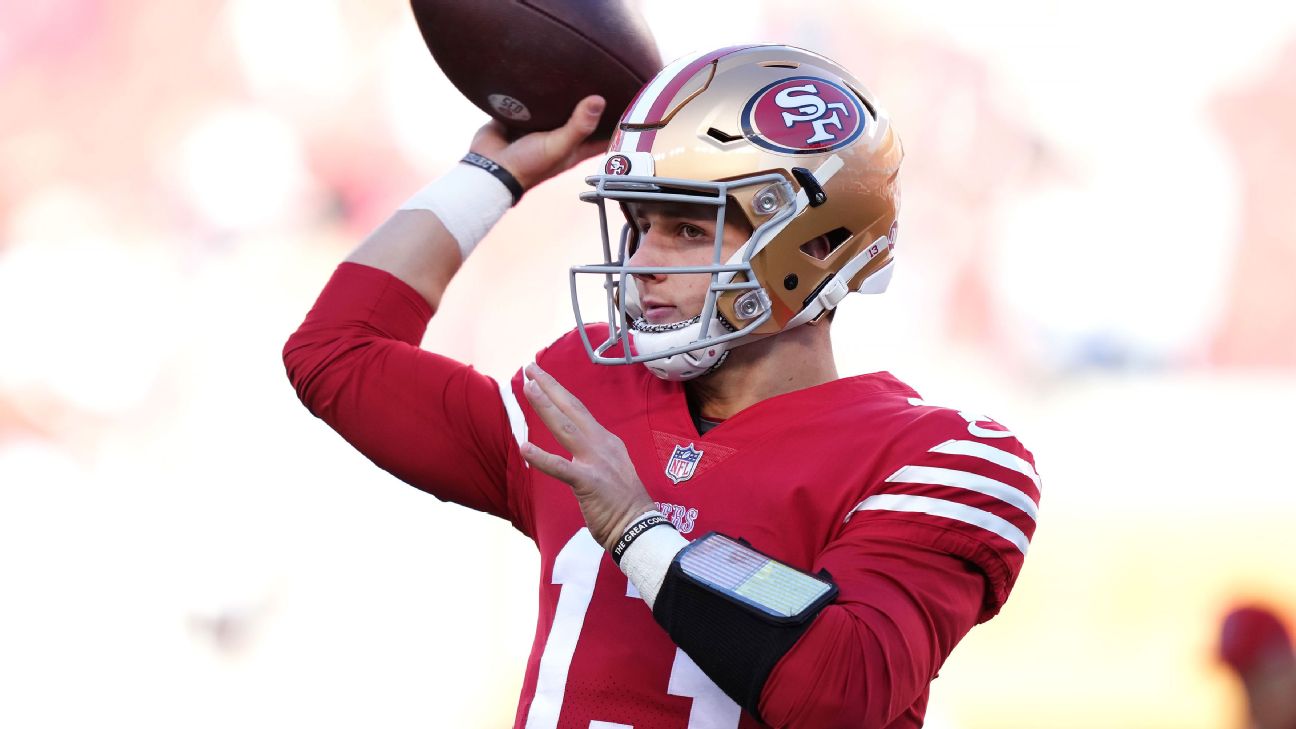 SANTA CLARA, Calif. – Since tearing the ulnar collateral ligament in his right elbow on Jan. 29, San Francisco 49ers quarterback Brock Purdy has spent the past week and a half exploring every option to get back to full strength.
On Wednesday, Purdy not only decided on a surgical option but set a date for the procedure. Sources told ESPN's Adam Schefter that Purdy will have a UCL repair on Feb. 22 with an expected recovery time of about six months.
Given that timeline and the date of the procedure, Purdy could return sometime in the first few weeks of training camp when it opens in late July. Purdy had been seeking multiple opinions on the best method to get his elbow back to full strength and has also been waiting for swelling in the elbow to go down before making his decision.
The news of Purdy electing to have surgery on Feb. 22 was first reported by NFL Network.
Purdy's surgery choice aligns with what Niners general manager John Lynch said he was expecting at his end of season news conference on Feb. 1, although Lynch also cautioned that things can always change once surgeons get a look inside the elbow.
"The positive bit of news is that it seems to be consistent that the right approach is that one that takes about that six-month point," Lynch said. "Now everybody will also say you never know until you get in there. Every surgeon will tell you that on every surgery. You always like getting in to see exactly … They're continuing to work through that process, but we seem encouraged by the prognosis that that's kind of where it's at."
In addition to the repair, Purdy considered options that included no surgery at all and a Tommy John reconstruction surgery. The Tommy John surgery would have kept Purdy out for about a year and cost him the 2023 season.
Instead, Purdy's plan is to have what is known as a "surgical UCL repair augmented with an InternalBrace." The brace is a synthetic "check-rein" implanted alongside the repair to help reinforce the ligament as it heals.
That procedure is relatively new but there is one recent precedent that also happens to be a former 49ers quarterback. In 2020, Nick Mullens suffered a right elbow injury and became the first NFL quarterback to have the UCL repaired with InternalBrace.
If everything goes according to the surgery, Purdy should be able to begin rehab after three months and get full clearance at six months.
"That was the coolest thing for me to hear about that," 49ers coach Kyle Shanahan said last week. "Once three months is over, they start the rehab, just building the arm back slowly, and by six months it's filled back."
As expected, Purdy will miss all of the offseason program, which leaves Trey Lance as the only Niners quarterback under contract expected to be healthy for organized team activities. Lance, who is recovering from a broken right ankle, expects to be cleared for football activities in a few weeks, which would make him available for the offseason programme.
Shanahan has indicated that he is comfortable with Purdy and Lance as his quarterback options for 2023, although the Niners will have to add at least one more quarterback to get through the spring and training camp.
For now, Purdy has said his focus is on getting healthy and not staking a claim to the starting job full time.
"For me to claim or say anything in terms of what's going to happen moving forward, that's out of my control," Purdy said on Jan. 31. "I'm going to do what I can to get healthy and be ready to compete come fall."