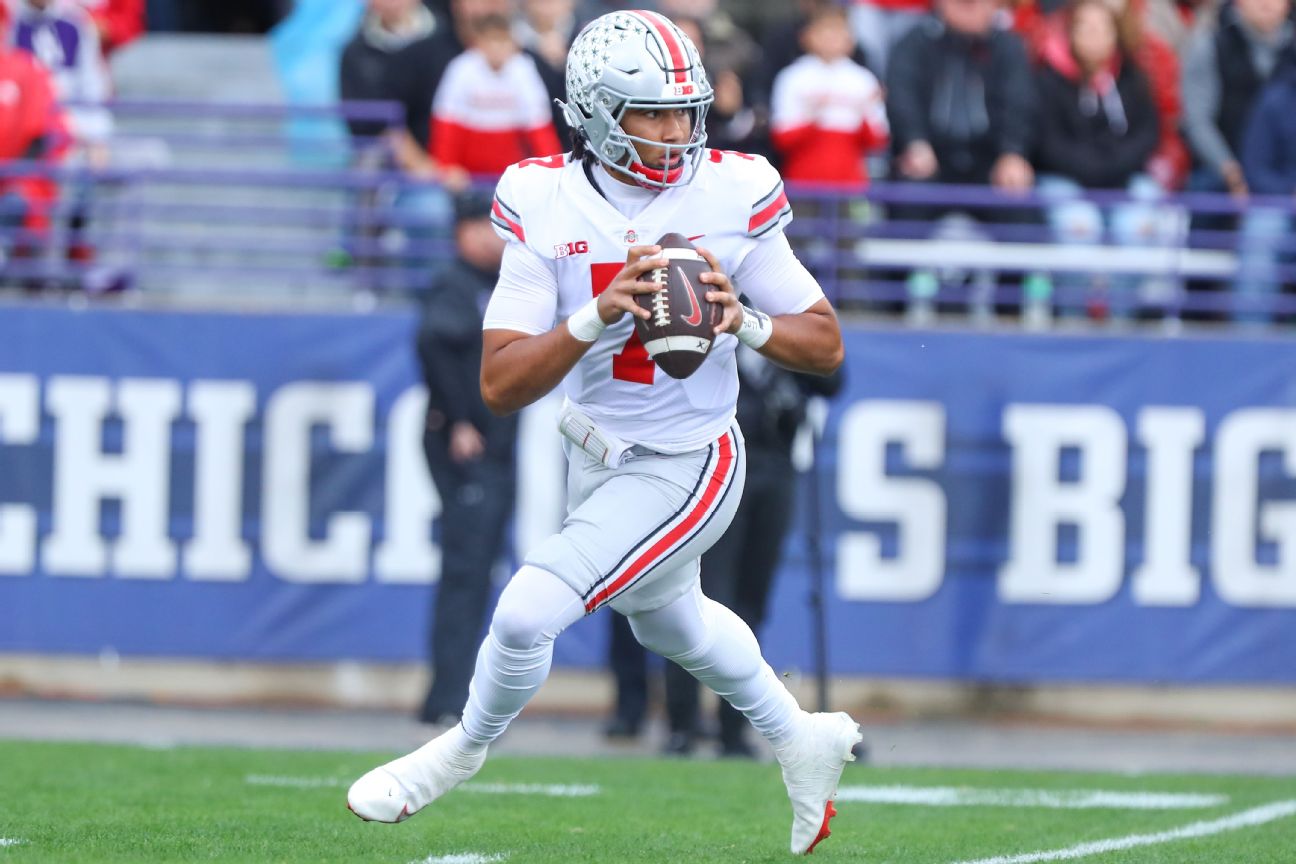 INDIANAPOLIS — Ohio State quarterback CJ Stroud said he believes that he's been the best player in college football the past two years, but he has no desire to join or replace former Buckeyes star Justin Fields with the Chicago Bears in the NFL.
Chicago has the top pick of the April draft and hasn't totally ruled out taking a quarterback after Fields has gone 5-20 as the starter since being selected with the 11th overall pick in 2021.
But as Stroud reminded on Friday at the NFL combine, he doesn't want to go to the Bears.
"That's his team," Stroud said of Fields.
Other NFL teams that could potentially draft a quarterback early in the first round include the Houston Texans (No. 2 overall pick), Indianapolis Colts (No. 4), Las Vegas Raiders (No. 7), Atlanta Falcons (No. 8) and the Carolina Panthers (No. 9).
Stroud was known more for his accuracy at Ohio State than as a runner, completing 69.3% of his passes for 8,123 yards and 85 touchdowns to only 12 interceptions. He rarely ran the ball, however, rushing for 108 yards on only 47 attempts last season, and he had only 80 runs for 136 yards and one touchdown in college.
Stroud defended his ability as a runner on Friday.
"If you turn on the film and really watch what I do and you really look at film game to game, I have used my athleticism," Stroud said. "Not just in the Georgia game, where I did it a lot, but I've done it in every other game.
"I've had tough third-down runs. I've had tough fourth-down runs. But there were times where I didn't run the ball or maybe I should have. That's something I learned. That's what football is all about . It's about stepping back up to the plate and fixing those problems."
That's important in an NFL where teams are gravitating towards more mobile quarterbacks. However, Stroud made the point that it isn't what you do with your feet that ultimately proves your success as a quarterback, using Fields as an example.
"You have to make plays with your feet, [but] he ain't no damn running back," Stroud said of Fields. "He's a quarterback. He can sling that rock."
So when teams at the combine have asked about his athleticism, Stroud has been ready with an answer.
"I'll be honest with you, I told them like I'll tell y'all," Stroud said. "I didn't do it a lot in college [run], and I feel like I should have. It's something I do regret. I feel like I could have done it a lot more."
He is ranked as the No. 5 overall player — and third among quarterbacks behind Kentucky's Will Levis and Alabama's Bryce Young — by ESPN NFL Draft Insider Mel Kiper Jr., but Stroud said he believes he's the best player in the draft.
"For me, if you put on my film, I think I've been the best player in college football two years in a row," Stroud said. "Honestly, I haven't touched my potential yet."