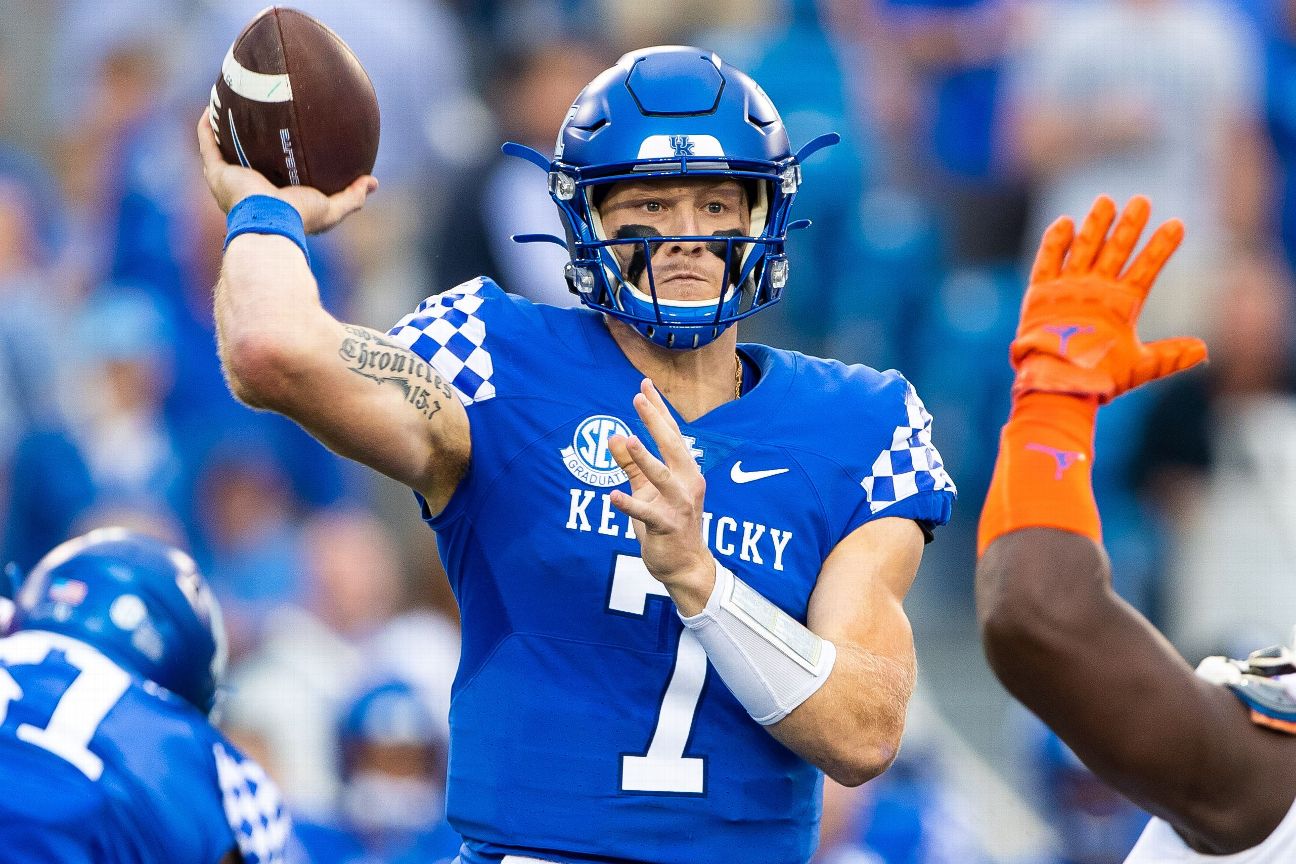 INDIANAPOLIS — Kentucky quarterback Will Levis didn't hesitate Friday when asked why he decided to throw at the NFL combine when not all the top draft prospects will.
"Because I've got a cannon," Levis said with a smile. "I want to show it off."
Levis' strong arm and prototypical size (6-foot-3, 231 pounds) are part of why he's ranked by ESPN NFL draft insider Mel Kiper Jr. as the top quarterback in a 2023 draft class that is one of the strongest in years at the position.
Alabama's Bryce Young is the only one of the top four who doesn't plan to throw on Saturday, when quarterbacks are measured and will display their skill. He will not throw until Alabama's pro day.
Levis doesn't just want to throw. He wants to show how far he can throw it.
He recently told Pro Football Focus that he believes he can throw a football 80 yards in the air. The longest recorded throw in an NFL game, according to PFF, was a 2020 Baker Mayfield pass that went 70.5 yards in the air before falling incomplete.
Levis' numbers were down his senior season while playing behind an offensive line that gave up 36 sacks — 14 more than the previous season. Foot, finger and shoulder injuries were also a factor. He threw for 2,406 yards and had 19 touchdowns and 10 interceptions in 2022. During his junior year, he threw for 2,826 yards with 24 touchdowns and 13 interceptions.
His rushing numbers dropped from 107 carries for 376 yards and nine touchdowns as a junior to 72 carries for minus-107 yards and two touchdowns as a senior.
What didn't drop was his confidence.
"Right now, I could bring them a championship with the confidence I have," Levis said when asked about his interview with one NFL team. I think I'm able to simulate myself very, very well, better than anybody else. That's the confidence I have. It's due to my experience and to my physical tools. I think I'm gonna be able to be plugged into any offense very well."
Among the teams considering Levis in April's NFL draft are the Houston Texans (No. 2 pick) and Carolina Panthers (No. 9). Levis said he has not met with the Indianapolis Colts (No. 4) at the combine but did meet with the Panthers and Tampa Bay Buccaneers.
He said his visit with the Panthers went well, adding that it was cool meeting with former NFL quarterbacks such as Carolina head coach Frank Reich and quarterbacks coach Josh McCown.
Levis said McCown explained the Carolina offense and had him relate it back to him.
"It was a great way for them to kind of figure out my knowledge and then also to learn whatever I can from them," Levis said.