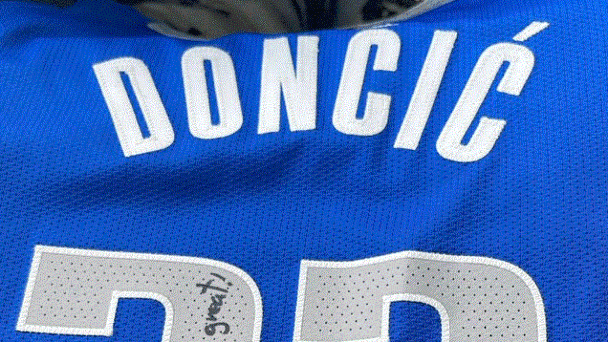 Cincinnati Bengals wide receiver Ja'Marr Chase has a prominent NBA jersey to add to his collection.
Chase, one of the NFL's top playmakers, was courtside in Dallas on Sunday to watch the Mavericks take on the Phoenix Suns. Mavs star Luka Doncic gifted his football counterpart one of Doncic's blue No. 77 jerseys with a simple message, according to a post on Chase's Instagram story: "Keep being great!"
Bengals WR Ja'Marr Chase was in Dallas for Sunday's game between the Suns and Mavericks and got a signed jersey from Mavs star Luka Dončić. (via IG/lahjay10_) pic.twitter.com/vpRev9yY3j

— Ben Baby (@Ben_Baby) March 6, 2023
Chase's visit to Dallas might have had something to do with Doncic's new teammate, guard Kyrie Irving. When Chase was younger, he was vocal about his admiration for Irving, a three-time All-NBA selection.
favorite basketball player? – Kyrie Irving https://t.co/l6RlRnVLO1

— Ja'MarrChase (@Real10jayy__) January 10, 2017
I don't have favorite team, just Kyrie.

— Ja'MarrChase (@Real10jayy__) May 29, 2016
When Irving was traded from the Brooklyn Nets to the Mavericks before the NBA's trade deadline in February, Chase quickly made tentative plans to watch Irving and the Mavericks play.
I'm fashoo going to a Mavs game this year

— Ja'MarrChase (@Real10jayy__) February 7, 2023
The Bengals' star wideout picked Sunday's game in Dallas against the Suns, a rematch of a heated rivalry series from last year's playoffs.
Phoenix won 130-126, thus exacting a small bit of revenge after being bounced by Dallas last postseason. Doncic dropped 34 points, and Irving had 30. They were outdueled by the Suns' combination of Kevin Durant and Devin Booker, who scored 37 and 36 points, respectively.
But count Chase among the winners Sunday. In addition to being a very cool piece of memorabilia, the note from Doncic is another reminder of where Chase, a two-time Pro Bowler, is at this point in his NFL career.