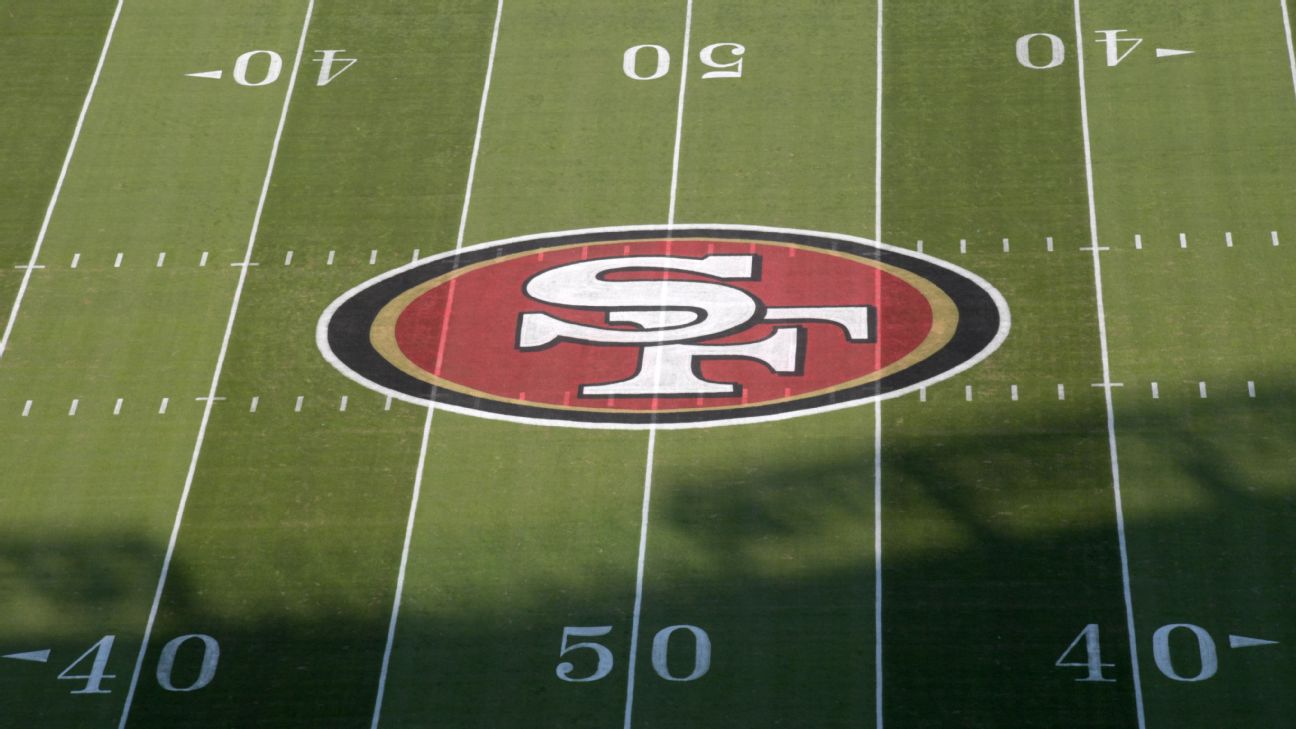 SANTA CLARA, Calif. — Before the NFL made its annual announcement of compensatory picks for the 2023 NFL draft, the San Francisco 49ers were slated to have just four selections.
After the league unveiled those 37 additional choices Thursday, the Niners now have a whopping 11. San Francisco's seven compensatory selections include three extra third-round picks (Nos. 99, 101 and 102) as part of the league's initiative for organizations developing minority candidates who become head coaches or general managers with other teams.
Those picks came following the departures of head coaches Robert Saleh (New York Jets), Mike McDaniel (Miami Dolphins) and DeMeco Ryans (Houston Texans), as well as general managers Martin Mayhew (Washington Commanders) and Ran Carthon (Tennessee Titans) in recent years.
The Cleveland Browns (No. 98) and Kansas City Chiefs (No. 100) also received third-round compensatory picks for the departures of Kwesi Adofo-Mensah (Minnesota Vikings general manager) and Ryan Poles (Chicago Bears general manager), respectively.
Sixteen teams received compensatory picks on Thursday, with the Niners leading the way. The NFL uses a formula based on salary, playing time and postseason honors to award compensatory picks to each team that loses "more or better compensatory free agents than it acquires in the previous year."
The Niners and Los Angeles Rams picked up the maximum allowable four additional picks under the compensatory free agent formula. It's the second straight year the Rams and Niners have gained the most compensatory picks.
In San Francisco's case, it added cornerback Charvarius Ward in 2022 free agency but lost defensive linemen DJ Jones and Arden Key, guard Laken Tomlinson, cornerback K'Waun Williams and running back Raheem Mostert for a net of four comp picks.
Those choices will come in the fifth round (No. 173 overall), sixth round (No. 216) and seventh round (Nos. 253 and 255). Because the 49ers signed many of their star players to significant contracts, they've been unable to re-sign some of their own key free agents and have become increasingly less involved in signing outside free agents.
Which is why the compensatory formula has become more of a focus, according to general manager John Lynch.
"You have to have the patience and the vision to allow some of these guys to walk, get some comp picks as a result to kind of play that game," Lynch said at the NFL scouting combine. "[It] took us a little while to figure that one out but I think we've tried to understand that you can't just go full throttle. And you get some rewards if you have a little more discipline. That's never easy, but it is necessary."
The Rams have long subscribed to that same approach and are once again near the top of the list in compensatory picks acquired. They added three picks in the fifth round (Nos. 167, 171 and 177) and one in the seventh round (No. 251) after losing edge rusher Von Miller, offensive lineman Austin Corbett and defensive tackle Sebastian Joseph-Day, among others.
The Arizona Cardinals and Dallas Cowboys followed the 49ers and Rams with three compensatory picks each. Arizona got the highest selection awarded, a third-round pick at No. 96 overall, plus a fifth-round pick (No. 168) and a sixth-round choice (No. 213). The Cardinals lost running back Chase Edmonds, edge rusher Chandler Jones and receiver Christian Kirk in 2022 free agency.
Like the 49ers, Chiefs, Browns and Cardinals, the Washington Commanders also got a third-round pick (No. 97) after losing guard Brandon Scherff to the Jacksonville Jaguars.
The Commanders, Green Bay Packers, Chiefs, Las Vegas Raiders, New England Patriots, New York Giants and Tampa Bay Buccaneers were awarded two comp picks each, with the Vikings and New Orleans Saints getting one each.
The Bears and Texans received supplemental picks at the end of the draft, with Houston now holding selection No. 259, which will be this year's Mr. Irrelevant.