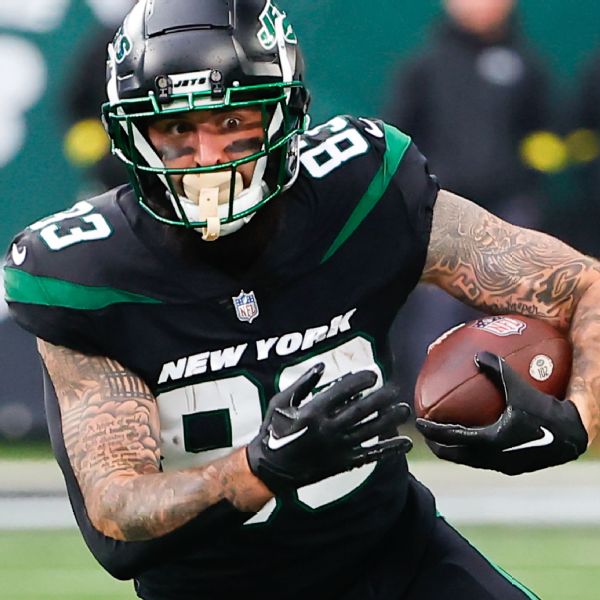 FLORHAM PARK, NJ — Preparing for free agency and the possible addition of quarterback Aaron Rodgers, the New York Jets created $13.1 million in salary cap room by restructuring three veteran contracts.
They reworked the contracts of three players from their 2022 free agent class — guard Laken Tomlinson, cornerback DJ Reed and tight end Tyler Conklin, a source told ESPN's Field Yates on Saturday.
Previously, the Jets restructured tight end CJ Uzomah — another member of the 2022 class — and released wide receiver Braxton Berrios.
All told, the cap savings total more than $21 million. The Jets had to make the moves because they were slightly over the $224.8 million cap. Teams must be cap compliant by March 15, the start of the new league year.
And now they wait for Rodgers to make a decision on his future. He can request a trade to the Jets, retire or return to the Green Bay Packers, which seems unlikely.
Jets brass, including owner Woody Johnson, flew to Southern California on Tuesday to meet with Rodgers. On Friday, Packer's president Mark Murphy confirmed they had granted permission to the Jets to speak with the four-time MVP.
Both the Jets and Packers would like to have a resolution by the start of free agency. The legal tampering period begins Monday.
Meanwhile, the Jets could make more moves. Pro Bowl linebacker CJ Mosley ($21.5 million cap) is a candidate to have his contract restructured. Wide receiver Corey Davis ($11.2 million) and safety Jordan Whitehead ($10.2 million) could be cap casualties.
To rework the Tomlinson, Reed and Conklin contracts, the Jets simply converted 2023 base salaries into signing bonuses, prorating the amount over the final two years of the contract. No void years were added. Each player is signed through 2024.