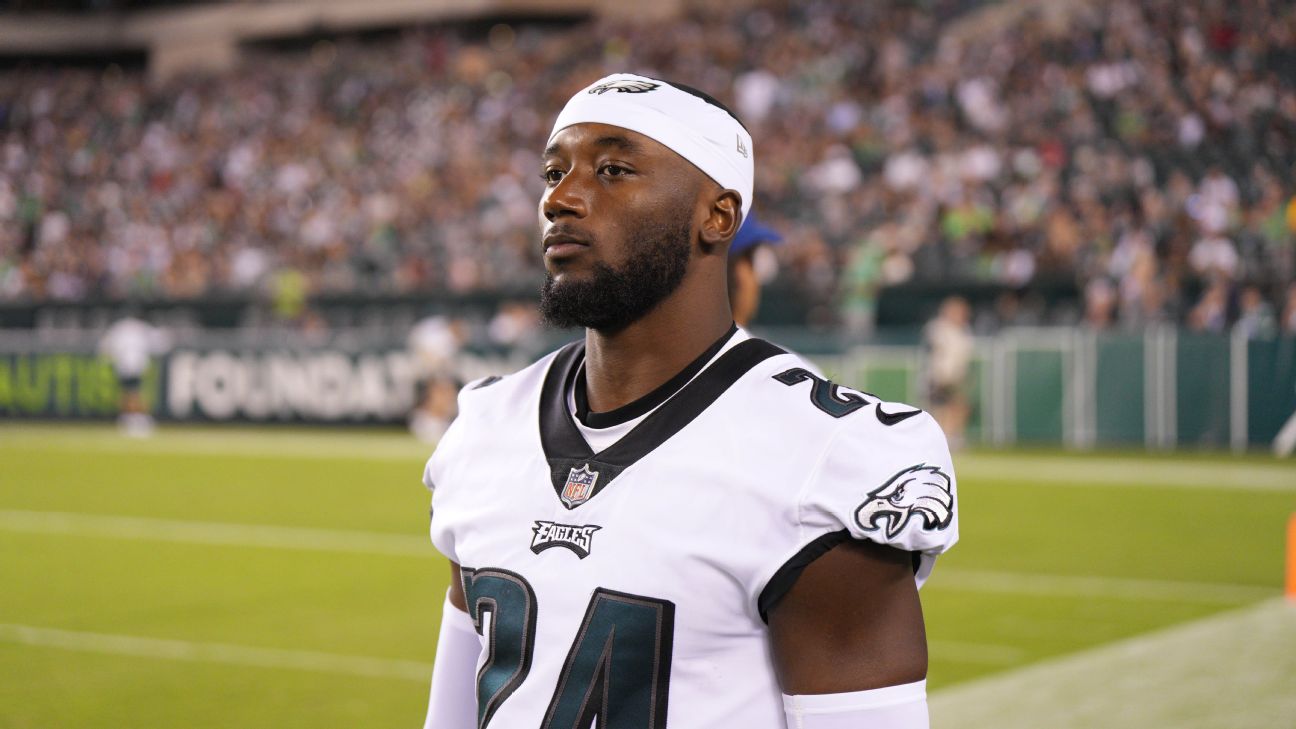 All-Pro cornerback James Bradberry is returning to the Philadelphia Eagles on what sources told ESPN's Adam Schefter is a three-year deal worth $38 million, including $20 million fully guaranteed and another $6 million in incentives.
A key part of the Eagles' league-leading pass defense, Bradberry, 29, was named second-team All-Pro in 2022. He finished third in passes defended (17) and added three interceptions and two tackles for a loss. Teamed with corner Darius Slay and safety CJ Gardner-Johnson in the defensive backfield, Philadelphia limited teams to 180 yards passing per game.
When talking about his approach to free agency, Bradberry said he wanted to join a team with a quality roster capable of making a run in the playoffs, while noting he didn't want to "play for cheap."
Returning to Philly ended up being the choice, one he said was as much about fit as it was money.
"It means a lot, truly, to be back in Philadelphia," Bradberry told The Philadelphia Inquirer. "Especially having the season we just had. It feels good to come back and keep trying to compete for the ultimate goal which is the Super Bowl.
"Of course, I wanted to go to a place where I got paid a substantial amount — enough to where I felt comfortable with. But I also wanted the fit to be right, as well. That was important for me."
Bradberry has the ball skills and the poise to win down the field, and he can also fit as a zone defender because of his backfield vision.
He missed out on the initial free agency wave last offseason, with the New York Giants waiting until May to release him. With much of the big money around the league already spent, Bradberry signed a one-year, $7.5 million deal with the Eagles, hoping to land a lucrative contract this offseason.
Bradberry's time in Philadelphia ended in difficult fashion, as he was called for defensive holding in the final minutes of Super Bowl LVII — an infraction that gave the Kansas City Chiefs a fresh set of downs and allowed them to wind the clock down before kicking the go-ahead field goal. While debate raged as to whether the referee should have thrown the flag in such a crucial part of the game, Bradberry stood at his locker for 20 minutes afterwards and took responsibility for the play.
He has 18 interceptions, 99 passes defended and 424 tackles in his career, after being selected in the second round of the 2016 draft by the Carolina Panthers.
ESPN's Tim McManus contributed to this report.