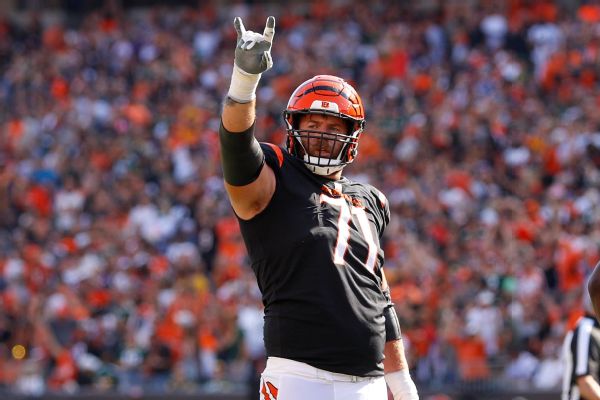 FOXBOROUGH, Mass. — The New England Patriots are expected to sign free agent offensive tackle Riley Reiff, sources told ESPN's Dianna Russini.
The agreement with the 34-year-old Reiff — who has started 149 career games and will vie for a top role protecting quarterback Mac Jones — highlights Bill Belichick's early free agent strategy to build depth at a position in which the team experienced a run of injuries last season.
In addition to Reiff, the Patriots have reached a two-year agreement with former Denver Broncos offensive tackle Calvin Anderson (41 career games, 12 starts), sources confirmed to ESPN. The team was also talking with free agent offensive tackle Andre Dillard before he agreed to a deal with the Tennessee Titans, sources told Russini.
Reiff, who entered the NFL as a first-round draft pick by the Detroit Lions in 2012 out of Iowa, has also played for the Vikings (2017-2020), Bengals (2021) and Bears (2022).
His expected addition likely means the end of Isaiah Wynn's injury-filled tenure with the Patriots. Wynn, who was selected in the first round of the 2018 draft, is an unrestricted free agent.
The Patriots also extended an original-round tender to restricted free agent offensive tackle Yodny Cajuste, which would pay him $2.7 million on a one-year deal.
The team's current offensive tackle depth chart includes Brown, Anderson, Cajuste, seven-year veteran Conor McDermott and 2022 seventh-round pick Andrew Stueber.
Both Reiff and Anderson have the flexibility to play both tackle spots, although the majority of their experience in games has been on the left side. That could hint at the team's plans to return veteran Trent Brown to right tackle after he played left tackle last season.
Reiff has played 6,546 snaps at left tackle, 2,028 at right tackle and 172 as an in-line tight end in jumbo packages. He also has 34 snaps in the backfield and one snap at left guard. Meanwhile, Anderson has played 641 snaps at left tackle, 68 at right tackle and one snap as an in-line tight end in jumbo packages.